Since January this year, 7 YST Conservatory students have been creating an original interactive music show for children. They have been developing the show, which incorporates music, dance and theatre, during their spare time (between classes and after rehearsals) and are now touring the performance at local schools. The show has been created to engage children, particularly those vulnerable or with special needs.
Above: The Enchanted Garden performance at YST Conservatory for children and their families from the Rainbow Centre
The performance is specially catered to an audience of 8-10 children to ensure a sense of intimacy and individualised attention for each child during the performance.
An educator from the Eden School, Ms. Nikki Wah, was extremely thankful to the YST students for sharing the performance at their school and for "respecting the needs of the [Eden School] students with autism".
Above: The Enchanted Garden autism-friendly performance at the Eden School
The students started their project with a brief outline of the type of music they wanted to share with the children. They wanted to make sure the music was gentle and inviting, but also was referencing classical music repertoire as a way to expose the children to live classical music up close. The music was performed and co-composed by Ilysia Tan (BMus Year 1, Composition), Noah Diggs, (BMus Year 3, Composition) and Pualina Lim (BMus Year 1, Piano). The students' next step was to fit a narrative to the music together in the rehearsal room.
Priscilla Fong co-created the lyrics for the songs, alongside Amelia Hayes (BMus Year 2, Voice) who are the main performing characters.
The students were responsible for managing logistics and communications with the performances at multiple venues throughout March. Community partnerships included Very Special Arts (VSA) Singapore, Eden School, Rainbow Centre and Children's Cancer Foundation (CCF). Rachel Lim, a fourth year Voice major, had previously organised creative music workshops with CCF last year, so through this project, she wanted to further develop her connections with CCF.
Above: Performance for the Children's Cancer Foundation at Novena Specialist Centre
Joey Tan (BMus Year 2, Composition) performs as a ballerina for The Enchanted Garden performance. She dances to her arrangement of Tchaikovsky's Dance of Sugar Plum Fairy for keyboard, cello and percussion.
The development of the project and various performances of The Enchanted Garden is acknowledged and credited by the Conservatory as a 'Career Development Group Project'. The faculty advisor for the project is Bethany Nette, a teaching assistant for YST Professional Integration and YST alumna (BMus '16, Trumpet). She coordinates student-led community engagement and development projects for the Conservatory.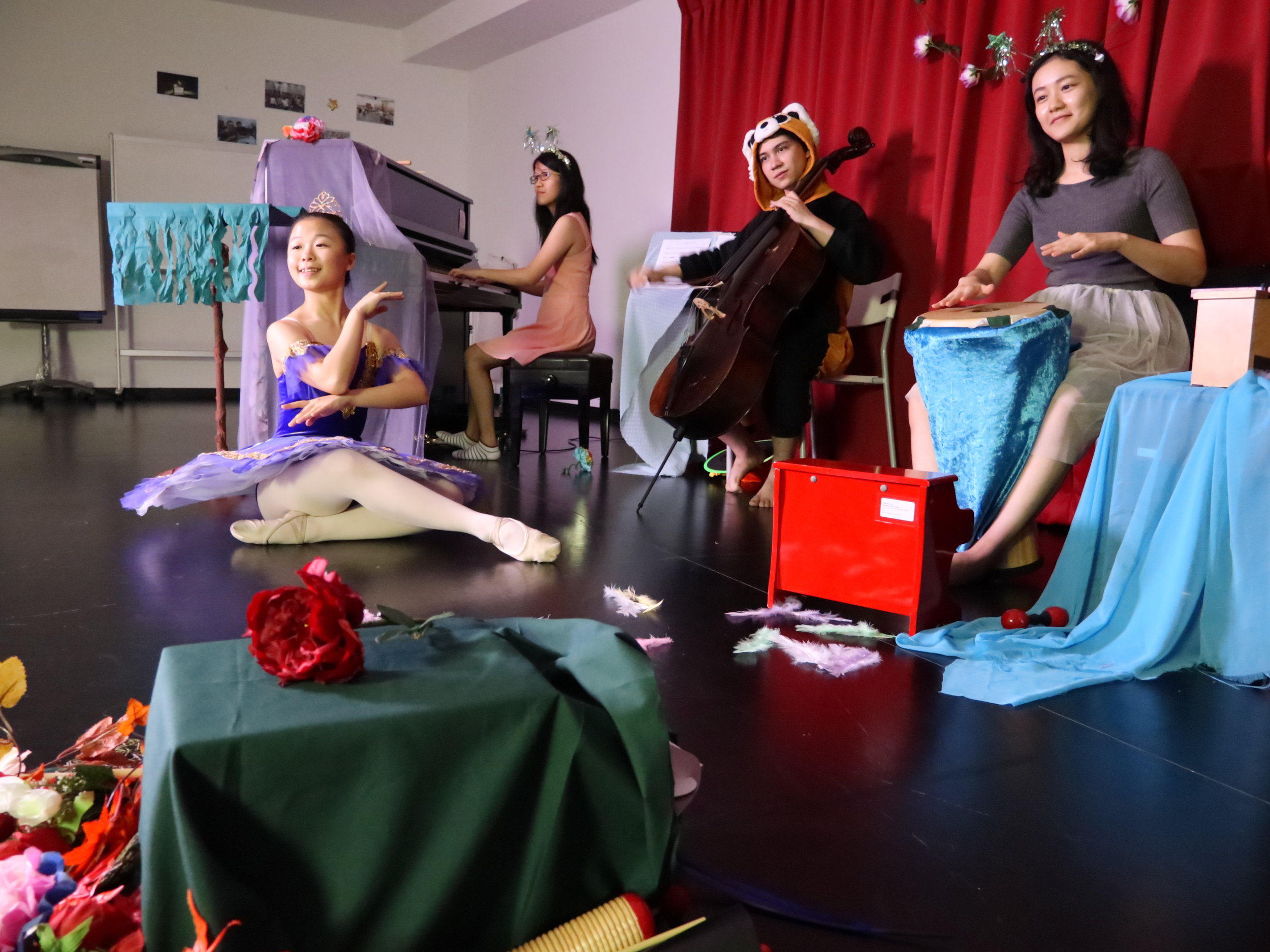 Above: The Enchanted Garden performance at Very Special Arts (VSA) Singapore